GLASS
ガラス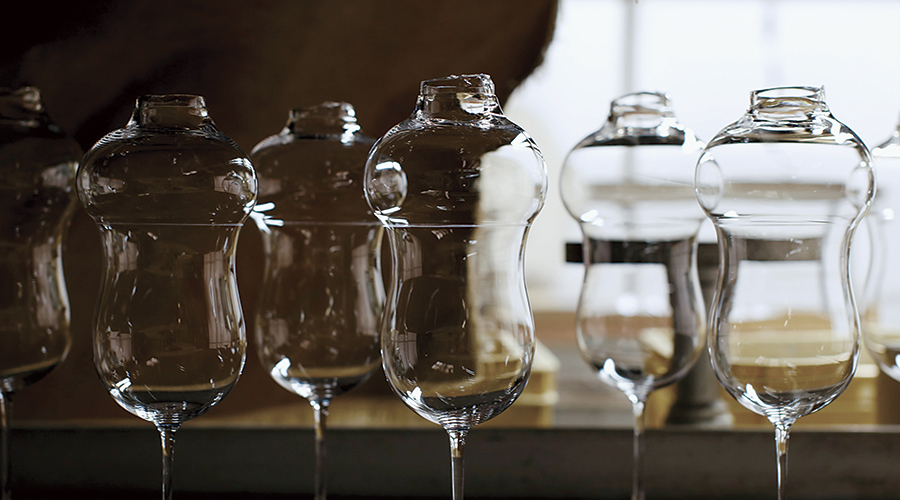 オートメーション化が進み機械生産のグラスが世の中を席巻する一方で、東京の下町にあるガラス工場では今でも手作りにこ だわり、昔からほとんど変わらない製法でものづくりが続けられています。
タイム アンド スタイルのガラス製品のほとんどは、型吹きと呼ばれる吹きガラスの技法で作られています。高温で溶かされた ガラスを鉄パイプの先に水飴のようにからめ取り、息を吹き込んで膨らませて成形する方法です。金型の内側にガラスを吹き 込むことによって、同じ形状の製品をたくさん作ることができるのです。
With the spread of automation, our world is now filled with glassware produced by machines, but at the glass factories in the traditional areas of Tokyo, they continue their conventiona l methods that have hardly changed at all over the years, and they are committed to making their products by hand.
Almost all of the TIME & STYLE glassware products are manufactured using the glass blowing method called moldblowing. With this method, glass that has been melted at high temperatures is gathered onto the end of a steel pipe like honey, and air is blown into it to shape the glass into product s. By blowing the glass into metal molds, it is possible to create products of the same shape.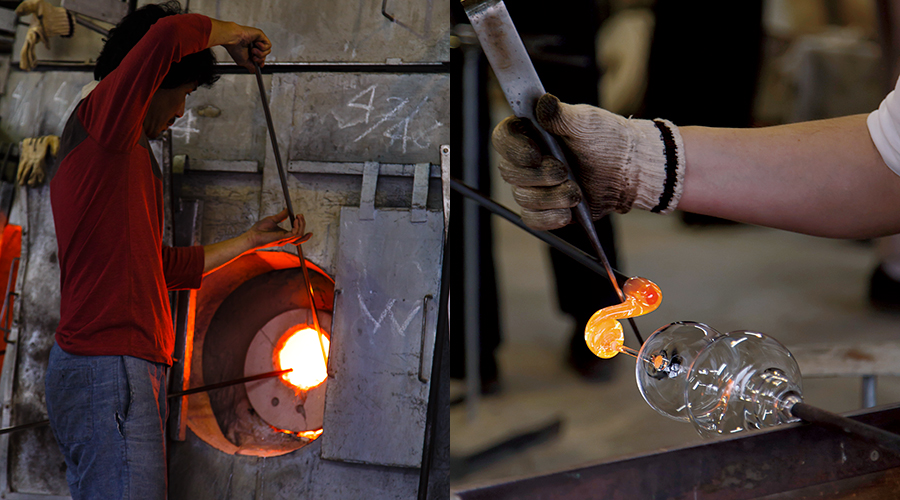 竿に巻き取るガラスの量や吹く力の微妙な加減が成形に大きく影響するからこそ、より均一なものを作るには職人の経験と技術が求められます。熟練した技と感性によって、薄く、均一で、繊細さの中に強さを備えたグラスが出来あがります。型吹きガラスの製法は、古来より大きくは変わることなく世界中で受け継がれており、日本の職人が使う基本的な道具は吹き竿と形を整える2 〜 3 種の洋箸のみ。これは西洋の職人と比べると僅 かな道具のみで製品が作り出されており、器用で繊細な感性を持つ日本人だからこそ成せる技なのでしょう。
Allowing the production of many items with the same shape. Precisely because the volume of glass rolled up and the delicate application of blowing power can have a large inf luence on the shaping, it requires a higher level of skill and experience for an artisan to create more uniform items. Proficient skill and sensitivity result in thin and uniform glass furnished with strength in its delicacy. The manufacturing method for mold-blown glass has been passed down largely unchanged throughout the world since old times, and the basic tools used by Japanese artisans are the blowing iron and 2-3 types of tongs for shaping. In comparison with Western artisans, these Japanese artisans are creating products with fewer tools, and it is surely a skill that Japanese people excel at with their skillfulness and sensitivity.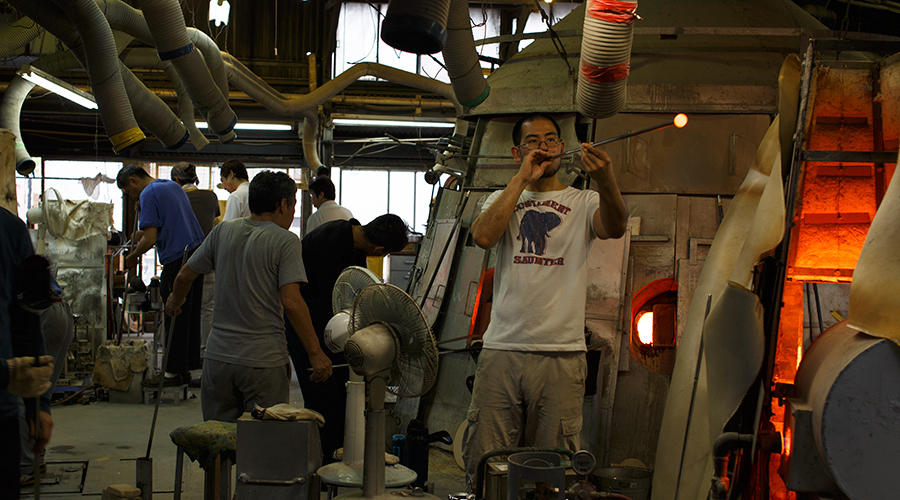 ガラスの窯は一定の温度を保つために、24 時間365 日、火を絶やすことはありません。工場の中心に据えられた、熱気を放つ大きな窯を職人たちがぐるりと取り囲み、3〜5 名編成のチームが絶妙なコンビネーションで次々と製品を仕上げてゆきます。 1 組のチームが1 日に生産する品物は300〜600 個程度です。一定の品質を保つためには、パイプに絡めとるガラスの量は全て同じでなければなりません。刻々と変化するガラスの状態を見極め、製品の形状に合わせて息の強弱や吹き込むスピードを微妙に加減しながら、来る日も来る日も黙々と作業を続けています。日々の鍛錬を積み重ねて技術と感性を磨き、一人前と呼ばれるまでには、10 年かかるとも20 年かかるとも言われています。
The temperature in the glass furnace must be maintained at a constant level, so the fire must be kept burning 24 hours a day, 365 days a year. The large furnace that radiates heat is positioned at the center of the factory with artisans standing on all sides. Teams of three to five people complete one product after another through an exquisite combination of skills. One team can only produce about 300 to 600 items a day. In order to maintain a certain level of quality, the amoun t of glass gathered onto the pipe must be the same amount each time. They must determine the constantly changing condition of the glass, and slightly adjust the strength and speed of the air being blown into the pipe depending on the shape of the product. Through the accumulation of daily discipline, the artisans hone their skills and sensibility, and it is said that it takes them